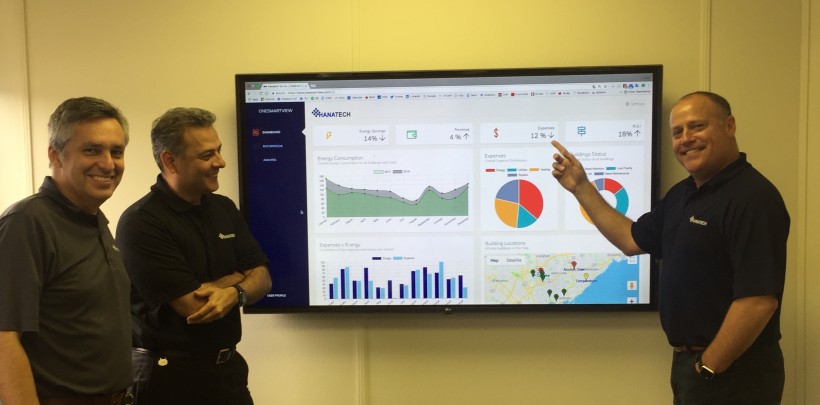 Hanatech powers Smart Buildings with OneSmartView.com platform
Hanatech, an IoT solutions company nestled in Bedford, is getting ready to release a new integrated dashboard, called OneSmartView, that lets its customers receive and manage their data.
IoT, or the Internet of Things, is a term that refers to the global network of devices, like our phones, computers and tablets, that are all connected to one another via internet and the cloud. IoT companies like Hanatech are helping other businesses harness this network to make things easier, faster and to make more informed decisions.
Hanatech performs multiple services for its clients, from smart building solutions to software development. But now, Hanatech is amping up its role as an IoT solutions provider. The company has worked with Olympus Property Management, United Gulf Developments Ltd. and the town of Berwick in the valley.
"This whole Internet of Things movement is new," said Chuck Lienaux, the company's CFO, in an interview. "But now is the time that it's engaging everywhere."
The company received grants from two educational institutions to work on its recent projects. The details of the grants remain undisclosed but the first grant, from Saint Mary's University, allowed Hanatech to develop the OneSmartView portal.
The One Smart View platform is a customizable dashboard for people like property managers, building owners or small to medium-sized business owners to manage all their cloud-based devices and connections. So if a building has multiple security cameras, automated lights, and self-locking doors, One Smart View, would be the control centre to monitor that activity.
"We're enabling a connection and aggregation of data in the cloud," said Lienaux.
Hanatech is also a value-added reseller of Bell Canada and is working on IoT projects with Bell for Hanatech's customers. The company's second grant is with the Nova Scotia Community College to develop a smart farming application.
The idea is to build an analytics platform that looks at factors like weather, humidity, fertilizer etc. to help determine the optimum harvest time. "We're working in agriculture and aquaculture to develop smart farming applications," said Lienaux. "We're not into field testing just yet but we're getting close in terms of laying down the whole framework for the portal."
The company started in 2013 as a small IT business run by co-founders Ali Nafarieh and Ali Hamidi. Nafarieh and Hamidi had known each other for 23 years in Iran before immigrating to Halifax and starting Hanatech. The company actually gets its name from a combination of the first two letters of Hamidi and Nafarieh's last names.
Lienaux also added that one of the company's more immediate hangups is the province's limited talent pool. But its close ties with the universities have established a solid pipeline of potential employees that helps mitigate those issues.
"We never have enough talent however we have great relationships with the feeder systems, most notably the universities and community college," said Lienaux. "Immigration is incredibly important and that's what's going to feed the Nova Scotian economy."