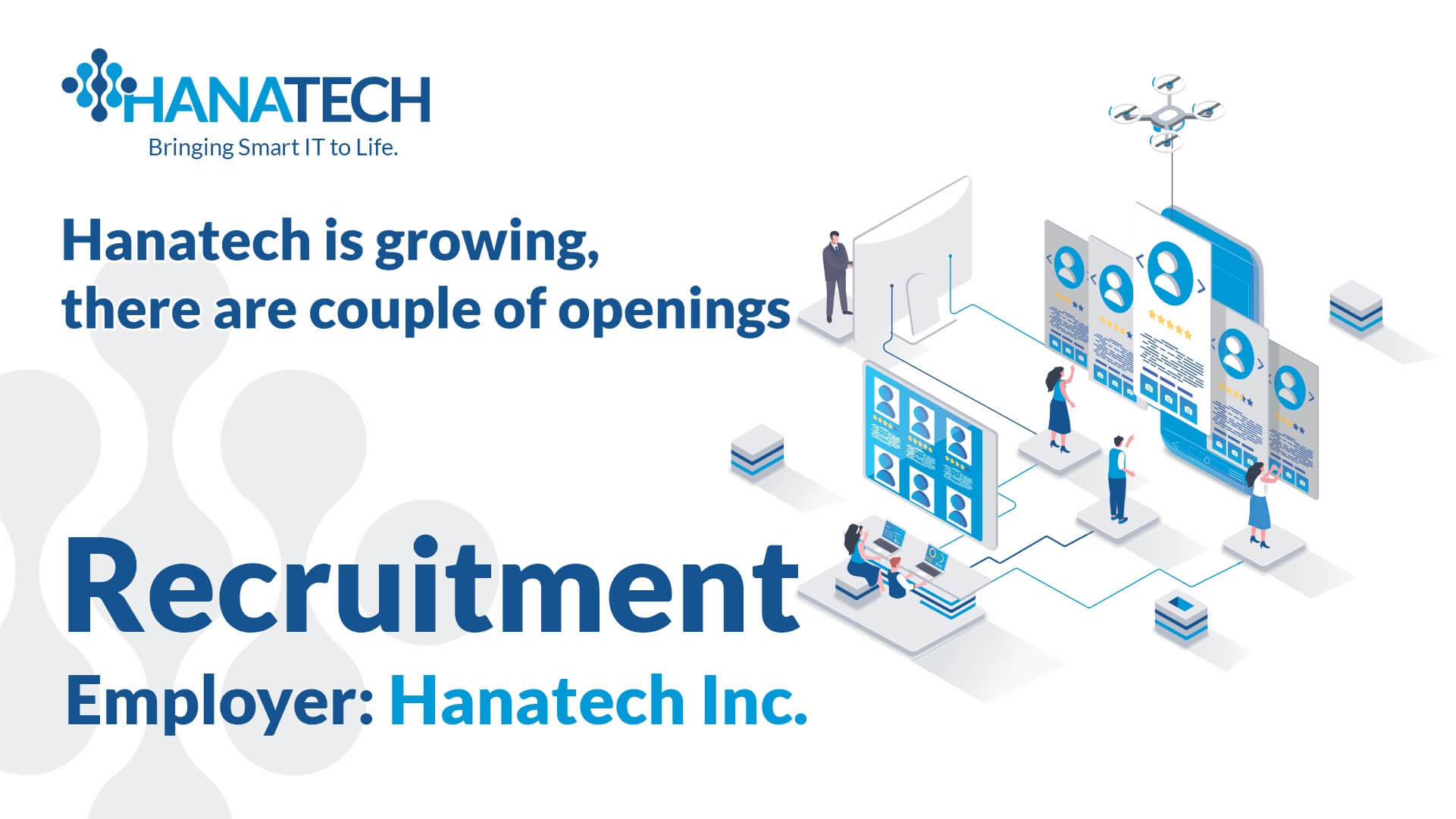 Recruitment in Hanatech Inc
User support technician
Employer: Hanatech Inc.
Industry Title: Information Technology
Job Type: Full-Time, Permanent
Start Date: As soon as possible
Language: English,
Minimum Education: bachelor's degree (equivalent) in computer programming (science), network administration, or related engineering
Positions Available: 2
Location: Fall River, NS
Job Summary
Hanatech Inc. is a leading Atlantic Canadian IT solution provider, providing easy-to-use and cost-effective solutions and 24/7 Managed IT Services. We are proud to provide our clients with the comfort that comes with our robust, integrated, and secure solutions. As a technology company, we work with a variety of local and national clients. Our performance-based business model has been shaped by mutually beneficial long-term relationships and positions us to work in close partnership with many dynamic and compelling companies and organizations. Our company and network are growing. Our industry is growing. Our opportunities are growing. And our people are growing. We hire people who are excited about learning, the opportunity to make a difference, and desire to be strong and successful leaders. Our most important investments are always our employees.
We currently have openings for User support technicians for different industries.
Description
User support technicians provide first-line technical support to computer users experiencing difficulties with computer hardware and with computer applications and communications software. They are employed by computer hardware manufacturers and retailers, software developers, call centers, and in information technology units throughout the public and private sectors. They are also employed by independent technical support companies, or they may be self-employed.
Job Duties
Prepare reports, manuals, and other documentation on the status, operation, and maintenance of software.
User query/issue handling. Ensuring user queries or issues are captured, validated, and triaged for further processing.
Communicating with users. Ensuring that various types of information are communicated to users through the appropriate channel(s).
Optimization. Ensuring improvement of the two previous processes through analysis, reviews, and reporting, as well as through automation, competence building, knowledge sharing, and other organizational changes.
Identify and diagnose issues and problems.
Categorize and record reported queries and provide solutions.
Advise users on the appropriate course of action.
Monitor issues from start to resolution.
Act as the routine contact point, receiving and handling requests for support.
Responds to a broad range of service requests for support by providing information to fulfill requests or enable resolution.
Assists with standards development, and applies these to track, monitor, report, resolve, or escalate issues.
Contributes to the creation of support documentation.
Walking users through the functions and back-end operations of a software
Helping the development teams in conceptualizing upgrades or updates based on customer feedback that will improve the user experience.
Monitoring and responding effectively and quickly to requests received via the IT helpdesk and creating training materials with screenshots for customers.
Providing technical support or assistance for incoming issues and concerns related to hardware, software, and systems.
Documenting internal procedures and maintaining the daily performance of computer systems
Working through the process of solving problems with clients and encouraging them to do the same in the future.
Running diagnostics to resolve problems, cleaning up computers, and training incoming staff.
Network/PC/Desktop Security element configuration including day-to-day service delivery.
Apply Today
If you have what it takes and would like to be part of this expanding, fast-paced, and exciting industry, we'd like to see your resume. Please submit your resume to [email protected]. Your email subject MUST be:
Subject: User support technician, job post date 10 April 2023
For more information, please contact our office at 1-844-HANATEC ext. 33